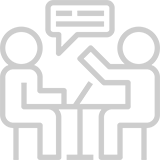 Our Experienced Houston Business Lawyers Can Help
Managing your business is tough work. McGarvey PLLC is here to take the legal challenges of running a business off your plate so you can focus on what's important: Growing your business.
Our team is well versed to assist SMBs and larger corporations with general business legal services, including contracts review, negotiations during a purchase or sale, and other general business legal services.
Should your business be involved in a dispute, McGarvey PLLC is equipped to evaluate complex situations and provide advocacy in most types of business & commercial litigation. We will always seek to resolve disputes outside of court; however, we are prepared to litigate if necessary.
Our Business Law Services
Our team can assist with:
Breach of Contract
Partnership Disputes
Business Divorce
Shareholder Disputes
Purchase Price Disputes
Fraud
Business Torts Litigation
Business formation and advice
Buy and Sell Agreements
Contract review and development
Mergers and Acquisitions
Legal solutions with your bottom line in mind. Book a consultation today.