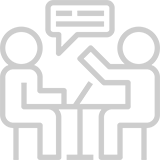 McGarvey PLLC Handles the Complex Transaction So You Can Concentrate on Your Business
Our business transactions counsel protect our clients' financial interests and work to avoid litigation. Careful analysis is applied to routine and complex real estate transactions to ensure clients' rights are protected and the risks of future disputes and litigation are minimized.
At McGarvey PLLC we handle a full-range of business transactions for our clients including:
Entity Formation
Asset Purchase Agreements
Business Divorces
Acquisitions
Lending
Corporate reorganization
Legal solutions with your bottom line in mind. Book a consultation today.