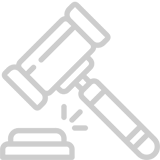 Walking with Clients through Stressful and Emotional Probate Matters
McGarvey PLLC attorneys have the compassion, knowledge, and experience to guide clients through complex probate matters. We understand that these disputes involve business decisions that are wrought with emotion. Probate matters are personal to you and to us. We will work to protect your interests and help you make the best business decisions possible during a difficult time.
We handle probate matters including:
Contested Guardianships
Fiduciary Duty Litigation
Will Contests
Invalidity of Wills
Undue Influence and Capacity Challenges
Power of Attorney Disputes
Disputes with Executor/Executrix
Legal solutions with your bottom line in mind. Book a consultation today.