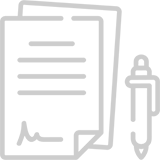 We Form Relationships with Our Real Estate Industry Partners
At McGarvey PLLC we want to help residential and commercial real estate brokers provide the highest level of service to their clients. Through training and partnership, we help your agents be knowledgeable on the contracts and the law and serve as a resource for legal questions. The relationship with a skilled real estate attorney helps you protect your clients, your agents, your brokerage, and yourself, all while providing a higher level of customer satisfaction.
McGarvey PLLC provides commercial and residential real estate brokerages in Texas with critical support for their businesses including:
Training on Contract Forms (TREC & TR)
General Advice
Policies & Procedures Manuals
Independent Contractor Agreements
Monthly General Counsel Retainer Legal Advice
Legal solutions with your bottom line in mind. Book a consultation today.